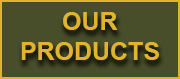 ---
---
Storage Sheds
---
Carports
---
Multi-Purpose Buildings
---
Wood Portable Storage Buildings Plus!
---
Metal Buildings
---
Yard & Garden Structures

Custom-Built Cottage, Workshop
Home Office, Storage Building
This product may not be available in your area.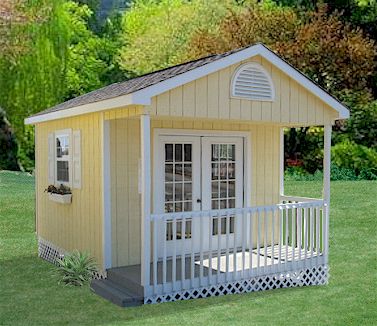 12'x16'x11' Summer Ridge. Includes a handsome porch with storage area overhead, nine-lite or 15-lite steel-clad double French doors, architectural shingles, window, under-the-eve vents with enclosed soffits, ridge vent, and half oval vent. Optional items are shutters, window box, and lattice.
NOTE: This is not a Rent-to-Own building.
Free Metal Roof Upgrade!
Normally $4/sq. ft. Call now to save!
Summer Ridge Storage Building Key Benefits
If you would like a salesperson to contact you, please click HERE
Summer Ridge Storage Building Advantage Pricing
Summer Ridge
8' Sidewall

True overhang with enclosed soffits and vents,
ridge vent, and half oval vent;
9 lites or 15-lite double French doors;
4' porch with safety balusters, rail, and steps;
32"x36" vinyl tilt-down window; architectural shingles;
pressure treated floor; and loft storage over porch.

Note: These sizes already include 4' porch.
Prices include on-site construction.


Prices are TAX INCLUSIVE!

Description

Value Price

Description

Value Price

12'x16'x11'

ASK

12'x28'x11'

ASK

12'x20'x11'

ASK

12'x32'x11'

ASK

12'x24'x11'

ASK

12'x36'x11'

ASK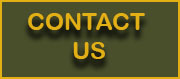 ---
Conestoga Builders Inc

Lakemont/Clayton:
8779 Hwy 441
Lakemont, GA 30552
678-576-6852


Conyers/Covington:
1265 Access Rd
Covington, GA 30014
770-786-5711


Kennesaw/Marietta:

Phone: 404-468-3030
E-mail Sales: Here

Models Open 24/7
Literature Available
---

---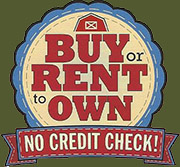 ---
CONESTOGA STEEL

"The First Choice in Steel Buildings"
CLICK HERE
---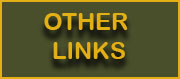 ---
NOTE: Conestoga Builders, Inc. does not do pillars, posts or piers. All prices are subject to change without prior notice. Jobs more than 25 miles from our lot may be subject to a travel surcharge. All sizes are approximate. Credit card purchases are subject to a surcharge.
© 2004-2022 Conestoga Builders
CALL NOW !!!

770-786-5711